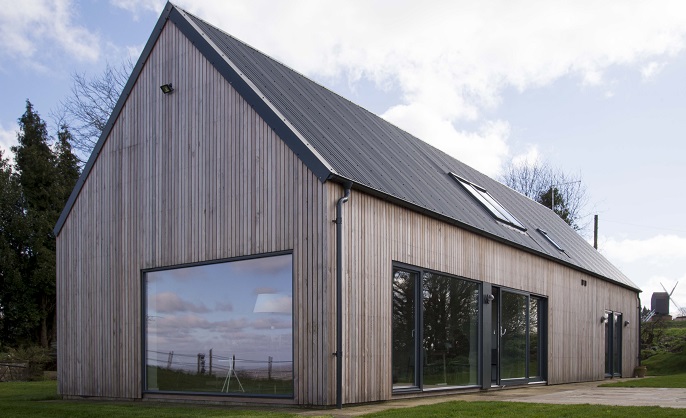 Brill Home in Oxfordshire
Having lived in a leaky bungalow for 5 years I decided it was time to look at how to build something new. I spent days and hours researching traditional bricks and mortar and timber-frame kit houses trying to decide what would be the best option.
I decided on a kit house. Quick to erect, eco-friendly and suitable for our budget. But which kit house?
I then came across HebHomes. Drawn to their philosophy which was about seeking inspiration from traditional buildings to create contemporary design, I loved the open-plan living, large volumes and simple forms. And the SIP construction they offered was a much better product that standard kit houses, making the houses really eco-friendly. My other thought was that if these houses can withstand the weather of the Hebrides they will be able to cope with our local climate!
After speaking to Alasdair I decided this was the right company to work with.
As a novice to construction it was important to find a company that would support my dream and support me with the process, particularly in being open and up-front about costs. I was drawn to their approach, experience and expertise. They gave me comfort that as a single parent with a full-time job I could build a house.
First Steps
I first decided on which house type I wanted to build, and with a few modifications the design was fixed. After collating site-specific information, such as on ground conditions, access, services and drainage, HebHomes pulled together the documents for submitting a planning application. Within a few weeks I had planning consent for my dream home. Once technical drawings and specification were finalised, and with all consents in place, I was then ready to move on to building my house. HebHomes made the whole part of this process feel seamless.
Working with a Local Builder
I had decided to use the HebHomes "Supply and Erect" service. I therefore worked with a local Oxfordshire contractor to demolish my bungalow and build the foundations. HebHomes then measured the foundations prior to delivery of the kit to make sure all was well. When they arrived the SIP panels looked a little like an adult Lego project! The HebHomes erection team worked hard for 7 days and the house structure was up in what seemed like an incredible speed, with all windows installed and membranes fitted. Stokenchurch builders then worked with me to complete everything from underfloor heating to fitting the bathrooms.
The project took approximately nine months- my only regret is not doing it sooner!
The Best Thing Ever Seen
We now have a brilliant eco-friendly house with big windows, beautiful spaces and seamless living. And as the estate agent who originally advised me against it stated- this is the best thing I have seen in a long time!
For anyone thinking of building a house, my advice is build a HebHome - you will not be disappointed. We are so very proud of our house. Seek everything as an opportunity and go for it!
Tania Gibson 2020