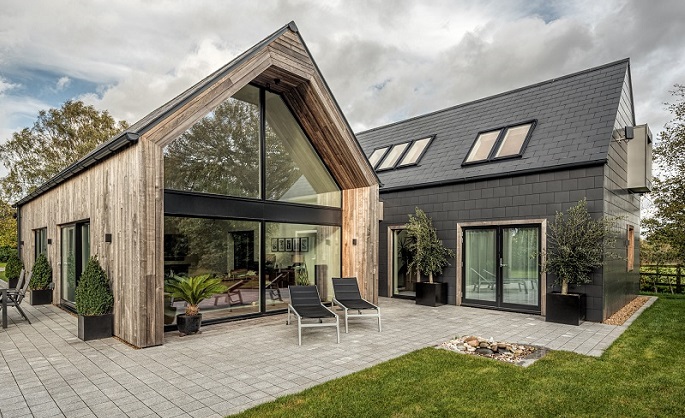 I had wanted to build my own home for a long time but having the time and budget inevitably delayed this. By the time I was in a position to do this a decent plot became almost impossible to get hold of. I had a few false starts before finding a 1950's bungalow on a spectacular spot.
Heb Homes had already been involved in previous attempts and were very patient in assisting me in a variety of changes along the journey.
Whilst I really wanted to completely design the house I was aware that the floor plan, flow and layout were a challenge and a risk. I knew that the designs Heb Homes had created were well proven so it made sense to start there. I loved the simple form and light airy spaces that came with the designs. I had fun modifying the finish, detail along with adding some striking interior and exterior features.
Building a home for the future was critical to me and making sure its environmental credentials were well above the current standards. Building to a passive house standard seemed an obvious choice with all the comfort levels and low running costs. I decided on a passive slab foundation for the main structure. Additional acoustic insulation was added together with triple glazing and the building is beautifully quiet and very comfortable. The demand for energy is very low and the solar gain in the winter warms the house for free!
A collaboration formed with Heb Homes, a local architect and myself. I contract managed the process myself and this in itself is not for the feint hearted. However, it does mean it's possible to control the process and create small adjustments along the way. It wasn't without it's issues. Building such a high tech home means that few builders really understand it.
Planning had previously been a challenge but this time utilising replacement dwelling rights and being very sympathetic to the surroundings, full planning was obtained. In fact, the local authority loved it and have nominated it for a design award. It now sits very well in its mature surroundings and I thank Broadland Council for their support and vision.
Having been a landscape contractor some years ago, I was keen to make use of the landscape and improve it by planting more trees, old English hedging and meadow areas. This is an area that always seem to be neglected by developers but the rewards are huge and the buildings themselves are improved by contrasting texture and form.
I now plan to build a cabin in the lower meadow of the plot and will most likely use one of the Heb Homes Airigh buildings and once again have some fun creating something efficient, striking and unique! Watch this space!