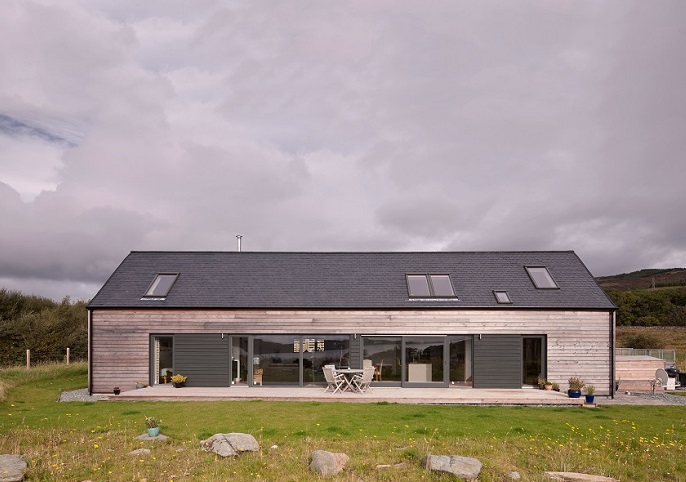 Vernacular Highland House on the Coast
Old and new design merged when Colin and Elaine Frier decided to build a traditional Scottish longhouse with a contemporary SIPs structure
For years, Colin Frier had nursed a longing to build his own home. With a career spent in the construction industry, first as a quantity surveyor and then as an acoustic consultant, he had decades of experience to draw on, but it was only when approaching retirement that he felt it was time to take action.
Colin and his wife Elaine lived in the coastal town of Helensburgh near Glasgow, but they wanted to find the right building plot, complete with a captivating view, somewhere in the Argyll region of the south-west Highlands.
"We have a boat and have enjoyed sailing round Scotland for many years, so we knew we wanted to find somewhere between Tarbert and Oban," says Colin
Finding land
Finding a suitable site wasn't easy. At one point Colin went to see an existing house that was up for sale in a good location. "I quickly came to the conclusion that I would have to demolish it and start from scratch. Given that it was on the market for offers over £200,000, that added up to an expensive building plot," he says.
Eventually, having exhausted the conventional route of consulting plot-finding websites, there was a breakthrough. "I was out with a friend in Tarbert and he mentioned that a local gamekeeper who lived close by had two or three sites for sale," says Colin.
"None of them were on the open market but they were fully serviced and had outline planning permission." One of the plots was in an elevated position, commanding stunning views across the south-west coast towards the island of Gigha.
Colin and Elaine had found their perfect plot, and it was theirs at a cost of just £100,000. The deal was sealed in 2012 but the couple didn't feel any sense of urgency to build, because they still had to sell their house in Helensburgh and Colin was working full-time at his Glasgow firm, New Acoustics.
Home design
A decision was made to find an existing set of house plans, rather than create an entirely bespoke home. "I felt that had we attempted to collaborate and build a house from scratch, it might have resulted in divorce," jokes Colin. "I wanted to find something that had already been thought about and tried and tested."
Happily for the preservation of harmonious family relations, the pair came across the work of Hebridean Homes, the sister company of architects Dualchas, at a building expo in Glasgow.
The firm's projects take their inspiration from an ancient type of building, the traditional Hebridean longhouse – long, low-lying dwellings that perfectly suited the climate and fitted neatly into the hillsides to shelter from the weather.
Although they opted for a four-bedroom design that had already been drawn up, the Friers were able to modify the plans to suit their needs. The finished house has three bedrooms (two ensuite), a bathroom and a study. The couple also extended the decking so that it would border both downstairs bedrooms, allowing direct access to the outdoors from these spaces.
There was one remaining aspect of the existing design that had to be addressed. "I felt the living area was going to be a bit tight so we decided to extend in length by about one and half metres," says Colin.
This change ultimately added around £30,000 to the overall build cost, so it proved to be an expensive alteration. But there are no regrets, since Colin and Elaine thoroughly enjoy the spacious ambience of their integrated living, dining and kitchen zone with vaulted ceiling.
Structural system
With the design finalised, there were other decisions to be made. The build could have been done using timber frame construction but Colin instead opted to go with structural insulated panels (SIPs), as he was attracted by the system's modernity.
"The SIPs option was slightly more expensive, but I felt that it would be faster and that the build would not be quite so weather dependent. I also like the idea of having a home that
has benefited from a high degree of factory precision," says Colin.
The couple then had to consider whether to hand over the whole build process to Hebridean Homes and let them deliver a turnkey package. In the end, Colin felt he was well qualified to take on the role of project manager alongside a local main contractor, Kenny Soudan.
"His team were fantastic," says Colin. "They were spot on and did a great job. Another firm had been given responsibility for erecting the SIPs, but didn't manage to create straight walls, so the joiner, Gregor, spent weeks making bespoke fittings that would compensate for that. We have ended up with perfectly straight, horizontal larch cladding that could have been horribly irregular."
Colin was equally impressed with Gregor's skills on the inside of the house: "He served an apprenticeship as a boat builder, and that has stood him in good stead. He was able to make bespoke doors for storage cupboards that matched perfectly with the room doors. He also created a recess for the utility doors to slide into."
Interior layout
When it came to choosing a kitchen, the couple opted for a high-end installation from Scottish company Mihaus. "To me, the kitchen is one of the most important parts of the house. It is absolutely key and I did not want to skimp on it," says Colin.
There was one hold-up when it took a while to get the worktop for the island unit in place: the first one didn't fit and the second had been damaged in transit. However, Colin felt that the suppliers were dedicated to getting things right and easy to deal with.
There is no mains gas supply in Argyll, so the heating system consists of an underfloor setup powered by an air source heat pump. There is also a mechanical heat and ventilation recovery (MHVR) system that makes sure the climate in the house is kept fresh and the heat from outgoing air is recycled and used to warm incoming air. The setup qualifies for the Renewable Heat Incentive, so the couple hope to receive around £1,000 a year for seven years.
Build plans
As retirement beckons, the Friers plan to construct a modest self-contained rental property in the garden in order to augment their pension. "People come to this area in order to catch the 7am ferry to the island of Islay, so there is a need for visitor accommodation and we would like to tap into that.
We are just looking at a very small, simple build that would occupy around the same footprint as a residential caravan," says Colin.
While they contemplate liaising with architects and going through the self-build process once again, the couple are enjoying their new home immensely and have no regrets about taking on such an ambitious project in a relatively remote area.
The house may be safely on dry land, but Colin can't resist an analogy to his passion for sailing: "We are able to look out at the ever-changing weather and clouds. It is a bit like lying at anchor somewhere beautiful."