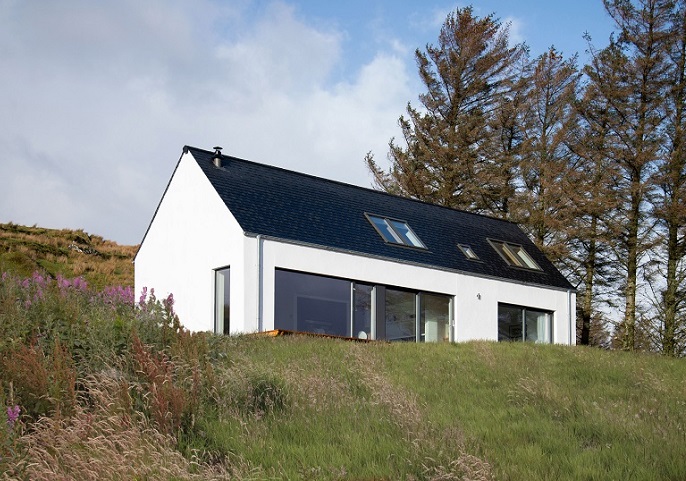 John Watson and Lesley Ryan
We were in the lucky position to be able to buy a plot of land on the Sleat peninsula and look to build our own home. We considered a number of options for the project, but we always came back to Heb Homes. We just loved the Heb Homes design ethos, with houses that manage to balance the modernity which we love with a respect for the historical architecture of the islands. Another key factor for us was the adaptability of the kit home. We chose the LH102PD.2, but we were able to make some design changes prior to submitting for planning which really fine-tuned the design. We ended up with a design that completely met all our requirements (and had plenty of that all-important storage!).

T

he planning process (from our initial design discussions with Heb Homes to full planning approval with Highland Council) took less than 5 months and we had decided at an early stage to go with the Heb Homes turnkey offering in order to make the process as simple as possible for ourselves. With the Heb Homes recommended contractor on board, we broke ground in late February 2019 with the build completing in early December 2019. That was probably c6 weeks behind schedule, however that was delay was driven primarily by challenges with our utility connections. Overall, it was a relatively straightforward build with the contractor keeping us well informed on progress and any issues either remotely or during our monthly site visits.

We relocated to Skye from Glasgow in early 2020, allowing us to work through the relatively small number of snagging items and really getting used to our new surroundings. The quality of the build is excellent, and any snagging items identified have been addressed in a timely manner. We continue to be delighted with the house - it has exceeded our expectations on so many levels and we love how it fits our lifestyle (and that of our cat and dog…..).