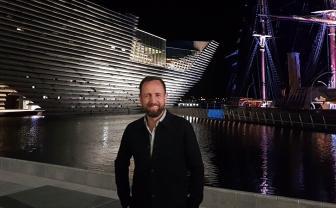 Hebhomes are delighted that one of their houses, an LH402 in Glendale on the Isle of Skye, is being showcased in the new Victoria and Albert design museum in Dundee.
Speaking at the official opening Hebhomes director Alasdair Stephen said, 'It was a complete surprise to me that a Hebhomes design had been selected to illustrate the stength of architectural design in rural Scotland.
'I know that two designs by our sister compnay Dualchas Architect were being featured but to see stunning footage of Jason Bold's house usng drone camerwork was extra special.
'I think it says a lot about the quality of our work that Hebhomes has been selected for such a prestiguous building'.