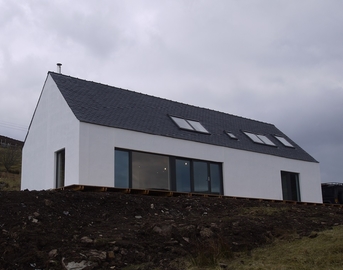 An LH502PD at Achnacloich on the Isle of Skye is due to be handed over to its thrilled owners this week. Built by James Cook Contractors this large family house is the first HebHomes LH502 to be built.
Alasdair Stephen, director of Heb Homes said,
"This has been a hugely popular house since being lauched just over a year ago. This will be the first of several to be built in the coming months and I am sure they will prove extremely popular with our customers. The extra width makes the volume of the house feel much larger than the similar LH402 and the spaciousness really is a surprise when entering the house for the first time."
This view was echoed by Mr and Mrs MacDonald who will move into their new home at Easter. Mrs MacDonald said,
"We are delighted with the house and initially didn't realise how big it would be. The rooms upstairs are especially large. We are also thrilled with the views through the walled glazing from the living room."
The house can be viewed on our Gallery page.