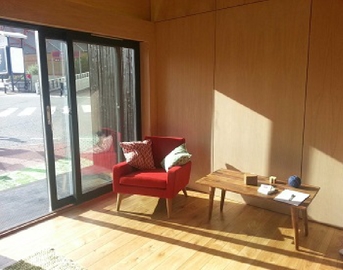 The fantastic oak-lined, larch-clad studio Airigh which was on display at the 100% Design Show in London is available to buy. This building was engineered as a demountable unit and can be re-erected on your site in a few days.
This particular design would be ideal as a small letting studio unit or a cheap way to provide ancillary accommodation for your house. We would transport to your site and assemble quickly and to the highest standard of finish. It may be the case that planning permission would not be required but we would ensure that all permissions are in place before commencing.
It has a floor area of around 40m2 and consists of a living/sleeping area with deck, showerroom and kitchen/storage area.
The cost of the completed building will be in the region of £50,000 depending on site conditions and location. Please contact HebHomes for more details.